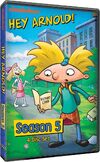 The fifth and final season of Hey Arnold! consists of 32 quarter-hour episodes, 2 half-hour specials, and 1 hour-long special.
Even though it was released separately, the series' theatrical film is also considered part of this season as it was produced alongside most of it.
Episodes
#
Segment A
Segment B
U.S. air date
Production code
81
Sid the Vampire Slayer
Big Sis
March 18, 2000
185A / Unknown
82
Gerald's Game
Fishing Trip
April 27, 2002
Unknown / 183A
83
Bag of Money
Principal Simmons
April 5, 2000
Unknown
84
New Bully on the Block
Phoebe Breaks a Leg
April 12, 2000
Unknown / 181A
85
Stuck in a Tree / The Helga Short
Rhonda Goes Broke
January 5, 2001
Unknown
86
Helga's Locket
Sid and Germs
April 19, 2000
Unknown
87
Beaned
Old Iron Man
January 12, 2001
Unknown
88
Ghost Bride
Gerald vs. Jamie O
November 11, 2003
186B / 189A
89
Suspended
Ernie in Love
April 26, 2000
185B / Unknown
90
Arnold Visits Arnie
Chocolate Boy
January 26, 2001
188B / 191A
91
Harold vs. Patty
Rich Guy
February 3, 2002
Unknown / 195A
92
The Racing Mule
Curly's Girl
January 11, 2004 (first segment)
October 11, 2002 (second segment)
Unknown
93
On the Lam
Family Man
June 1, 2002
194B / 193A
94
Phoebe's Little Problem
Grandpa's Packard
June 8, 2004
193B / 194A
95
A Day in the Life of a Classroom
Big Bob's Crisis
November 15, 2003
Unknown
96
Married
May 11, 2002
197
97
Timberly Loves Arnold
Eugene, Eugene!
January 28, 2003
Unknown
Film
Hey Arnold! The Movie
(Arnold Saves the Neighborhood)
June 28, 2002 (theaters)
December 31, 2002 (home video)
198
199
200
98
April Fool's Day
April 1, 2002
201
99
The Journal
November 11, 2002
202
100
203
Trivia
The last two episodes of the series, "April Fool's Day" and "The Journal", were produced in 2001, a year after the rest of the season and the movie. This is because episodes 98-100 were originally going to be the three half-hours of the TV movie Arnold Saves the Neighborhood; but when the TV movie was selected for a theatrical release under the title of Hey Arnold! The Movie, Nickelodeon ordered three more half-hours to fill in the gap in the production schedule, which were turned into these two episodes.

As a result of being produced separately at a later date, these two episodes share a few differences with the rest of the episodes of the season; namely featuring Alex D. Linz as the voice of Arnold, improved animation quality, and a slightly different production crew credited.

A few voice actors have been replaced.
Season 5 consists of 20 half-hours, but a total of 24 were aired in the US as part of the season. This is because three episodes from Season 4 (75, 77 and 80) and one episode from Season 3 (Parents Day) were held over for unknown reasons.
While in many other regions, such as Belgium, Canada, and Latin America, the season (and the series) finished airing in mid-to-late 2002, the U.S. broadcast was extremely erratic, taking a total of four years to air every episode.

Despite "The Journal" being the last episode in production and chronological order, it wasn't the last episode aired in the U.S. The remaining four holdover episodes took a year and a half to air.