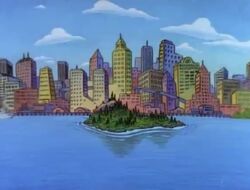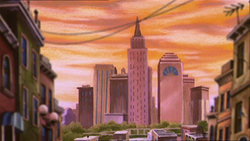 Hillwood is the city where Arnold lives, and where most events of the show Hey Arnold! take place. It is located in Washington state, as revealed in the episode "Road Trip" and evidenced throughout other episodes. The city's name is never explicitly said in the show, but it's visible in several locales throughout the series.
Real-life inspirations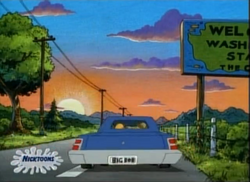 According to an interview with Craig Bartlett, Hillwood is an amalgam of large Northern cities in the United States, including Seattle, Washington (his hometown), Portland, Oregon (where he went to art school) and Brooklyn, New York City, New York (the bridge, the brownstones, and the subway). New York City was also seen in two episodes of the show ("Married" in Helga's dream and "Rich Guy" in a photograph), presumably as a separate city from Hillwood in-universe.
Inspirations from the aforementioned cities and various others can be seen throughout the show:
Hillwood is named after Hillwood Elementary, a school which Craig Bartlett attended in Seattle growing up.
Elk Island, according to Gerald in "Wheezin' Ed", is located on the Skookumchuck River. The Skookumchuck River is located in Lewis and Thurston Counties in Washington State. Also in this episode, Sheena's uncle Earl mentions Ivar's Restaurant, a local seafood chain established in 1938. They are scattered throughout Washington State.
The episode "The Pig War" follows the events of the Pig War, which are the same to the events which took place on the boundary between what is now the state of Washington and British Columbia. The only difference from the real one is the military numbers and actual battle.
Sunset Arms is located underneath what resembles Seattle's Alaskan Way Viaduct. The bridge was also a reference to Portland's Fremont Bridge, which overlooks Victorian houses. The bridge has also been noted as resembling the I-78 through Jersey City.
During the episode "Old Iron Man", Jimmy Kafka confirms that he and Grandpa Phil worked together during construction of the Grand Coulee Dam. The Grand Coulee Dam is located in Grant and Okanogan counties in Washington State. Construction began on July 16, 1933 and was opened on June 1, 1942.
Bartlett says in a Seattle Times interview that he took visual inspiration from locations in Seattle like Pioneer Square and the old Victorian houses.
In "On the Lam", Harold, Stinky, and Sid jump into a boxcar that says "Wanatchee Northern"; it is a misspelling of "Wenatchee", a city in central Washington State.
In "The Beeper Queen", after Big Bob hurts his back, he recalls a meeting at the Big Bob's Beepers where an important figure is "flying in from Buffalo" to attend and to close a deal. In the United States, there is either a city, town or unincorporated area named "Buffalo" in 22 states including New York, suggesting the city of Hillwood is not set in one or more of these states. No location known as "Buffalo" exists in Washington State.
At the end of "Road Trip", Helga and Miriam are seen entering Washington State before the credit roll. Originally headed for South Dakota on a trip, this confirms that Hillwood is located somewhere in the Evergreen State. 
In "Veterans Day", Martin mentions that "the capital is only a day's drive from here.", though Phil says it's 18 hours, when Washington, D.C. is actually a 40 hour drive from Washington State, and a 3-4 hour drive from New York. In real-life, the city where it takes an 18 hour drive to D.C. is Kansas City, Missouri.
In "Big Bob's Crisis", Big Bob says he and the family are going to walk barefoot to Oregon to live in a commune. Portland is 61 hours walking distance from Seattle.
In the Sunset Arms boarding house, Arnold's grandparents have a picture of Seattle's Space Needle hanging on the wall.
In several episodes that depict Phoebe's room, such as "Phoebe Skips", there is a poster that advertises "Tacoma Marine Park". Tacoma is a city in Washington State located on Puget Sound, southwest of Seattle and northeast of Washington's capital, Olympia. Additionally, Tacoma does have a Marine Park, although in real life, Marine Park is a recreational waterfront area rather than a marine wildlife park.
In the episode "Summer Love", Helga and her family go on vacation, and in Helga's guest room, there is a poster for Cape Cod. While it's never stated how long the trip took, in real-life, Cape Cod is about four hours from New York, 47 hours from Portland, and 46 hours from Seattle.
The radio station MJZZ may have been inspired by the jazz radio station KMHD (89.1 FM), which can be heard in the Portland, Oregon area.
As the country radio station KDUDE starts with a "K", this indicates Hillwood is likely west of the Mississippi River.
The monkey enclosure at the zoo in "Monkeyman!" resembles the chimpanzee enclosure at the Oregon Zoo prior to its 2018-2020 renovation.
The bridge seen in several episodes as a prominent landmark resembles the Brooklyn Bridge. The bridge has also been noted as resembling San Francisco's Golden Gate Bridge. Hillwood's brownstone buildings, stoops, boarding houses, and subway are also similar to those of Brooklyn.
P.S. 118 uses a numbering system akin to that of New York City schools. P.S. 118 is also a real-life school in St. Albans, which is a residential community in the New York City borough of Queens.
Classroom 206 is a reference to Seattle's area code of 206.
Lila is said to be from Pleasantville. While "Pleasantville" is a common name in fiction for unrealistic, idyllic locations, it is also a real-life village in Westchester County, New York.
The Great Ole Opry, in "Mr. Hyunh Goes Country", is a reference to the real-life Grand Ole Opry in Nashville, Tennessee.
Hawk Mountain, as mentioned in the "Sally's Comet" episode, is a real-life place located near Allentown, Pennsylvania. When Arnold and Gerald set out to the mountain, they pass a sign indicating the mountain is 74 miles away. In real-life, this Hawk Mountain is 120 miles from New York. There is also a Hawk Mountain located in Alberta, Canada, which is 791 miles from Portland and 618 miles from Seattle. Neither of the real-life Hawk Mountains have the hawk-shape of the one in the show.
Quigley Stadium is a reference to Chicago's Wrigley Stadium. Quigley Stadium is also a real-life stadium in West Haven, Connecticut and was home to the West Haven Yankees from 1972 to 1979. However, the stadium used in the series bears no resemblance to the actual Quigley Stadium.
Hillwood's baseball team is called the Black Sox, a reference to the Chicago Blackhawks and Boston Red Sox.
Mickey Kaline's name is a combination of New York Yankee Mickey Mantle and Detroit Tiger Al Kaline.
Dino Spumoni is a reference to Dean Martin, a popular big band/swing crooner from the U.S. West Coast.
Some characters have accents similar to Brooklynites.
Native American art can be seen throughout the show similar to the art of the Salish peoples from the Pacific Northwest.
In the Hillwood skyline (see above), a building resembling a mix between San Francisco's Transamerica Pyramid and New York City's Empire State Building can be seen.
Arnold wears a flannel undershirt (oftentimes mistaken for a kilt); flannel was a popular clothing item in 1990s Seattle.
In "Pigeon Man", Pigeon Man mentions how Arnold and friends "reminded me of me when I was growing up on 23rd Street"; 23rd Street is a real-life street in Portland.
A bridge similar to Portland's Burnside Bridge can be seen in some episodes. In real-life, the Burnside Bridge connects east and west Portland, similar to how the Hey Arnold! bridge leads to downtown Hillwood.
Victorian houses similar to those of Nob Hill, Portland are seen in some episodes.
Bridges similar to Chicago's river bridges can be seen in some episodes.
The Great of Fire of '69, mentioned in "Pigeon Man", is a reference to the Great Chicago Fire of 1871.
In "Four-Eyed Jack", Ernie says "I've been hearing some pretty funny sounds come from down there. Like someone gagging on a hoagie"; hoagie is a common term for a submarine sandwich in Philadelphia, Pennsylvania.
In the episode "Haunted Train", the engine has "Great Northern" written on its tender; the Great Northern Railway was a 19th/20th century railroad running from Saint Paul, Minnesota to Seattle, Washington.
In one episode, two street signs can be seen that say "Crip St" and "Blood Ave" respectively. The Crips and Bloods are prominent rival gangs from Los Angeles, California, who were most notably involved in the East Coast-West Coast gang war of the 1990s.
In the episode "Teachers' Strike", "Walla Walla" is one of the coffee flavors that Mindy offers. Walla Walla is a real-life city in Washington State.
In the episode "Big Caesar", the titular Big Caesar, a legendary giant fish who lives in the City Lake, is a reference to a 1987 news story where police found a half-ton sturgeon in Lake Washington.