The Hey Arnold! wiki is a collaborative encyclopedia about the Hey Arnold! series.
Articles include the original claymation shorts, comics, the animated TV series, and other informative pages.
The wiki format allows anyone to create or edit any article, so we can all work together to build the site.
Check out the FAQ to help you get started!
Hey Arnold!: The Jungle movie is here!
After over a decade, the first planned Hey Arnold! movie aired on November 24th. Featuring original cast members Francesca Marie Smith, Anndi L. McAfee, Justin Shenkarow, Lane Toran (AKA Toran Caudell), Jamil Walker Smith, and more, and new additions such as Benjamin Flores, Jr. as Mason Vale Cotton. Series creator Craig Bartlett and a large portion of the original crew have spent months finishing what they started, along with a handful of new and talented faces. In the film, Arnold and many of his classmates will journey to San Lorenzo on a school field trip, where Arnold will not only come across a crew of river pirates, but search for his long-lost parents, who went missing there over eight years prior.
Read more...
About Hey Arnold!
Hey Arnold! is an American animated television series created by Craig Bartlett. It ran from October 7, 1996 to June 8, 2004. The show stars 4th-grader Arnold, who lives with his grandparents Phil and Gertie, proprietors of the Sunset Arms boarding house. In each episode, Arnold will often help a schoolmate solve a personal problem, or he will encounter a predicament of his own.
Read more...
Expand the articles about episodes.
Expand the articles about characters.
Spread word about the Hey Arnold! wiki.
Propose articles for notable locations.
Got some information?! Create an article: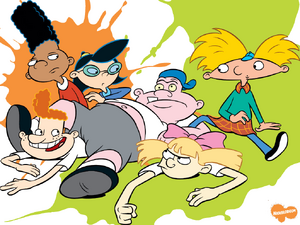 Got a question? Visit our Forum