Francesca Marie Smith is an American actress who is best known for providing the voice of Helga Pataki on Nickelodeon's Hey Arnold!. She has also provided the voice for "Ashley B", "Upside-Down Girl", "Swinger Girl" on Disney Channel's Recess and made a cameo appearance on the 33rd episode of Nickelodeon's The Amanda Show, as one of Amanda Bynes' friends. She also starred as Penny in Fillmore (TV series) for one episode.
Francesca graduated in Linguistics at California's Stanford University (see link below). Francesca also studied at Pepperdine University, graduating in 2008, she still works there as a salsa instructor. In 2017, Francesca came out of retirement to reprise her role of Helga Pataki for Hey Arnold! The Jungle Movie.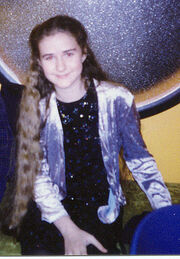 Voice Credits
Other Credits
Trivia
She joined the cast of Hey Arnold! when she was only 9 years old, voicing Helga in the 1994 pilot until she was 16 in 2001. She returned to voice Helga in The Jungle Movie in 2016 - at the age of 31!
As a result of her growing up during the show's run, Helga's voice throughout the series went from sounding like a young girl early on, to sounding like a teen around Season 4. In the two post-movie episodes, as well as The Jungle Movie, Helga sounds almost like a grown woman.
Francesca's voice for Sheena is her regular speaking voice but sped up to sound higher (similar to what was done to Jamil's voice for Gerald in later seasons). Similarly, "Deep Voice" is likely her regular voice pitched down to sound lower.
Francesca's Helga voice is her regular voice with more force/emotion put into it. As a result, she's said that there have been times she accidentally slipped into the Helga voice in front of other people. In some video interviews (like this one) she sounds like Helga at a few points.
Francesca Marie Smith counts her favorite episodes as What's Opera, Arnold?, Arnold's Christmas and Helga on the Couch.
She is not related to Jamil Walker Smith (the voice of Gerald in all appearances except Hey Arnold!: The Jungle Movie).
Her favorite colors are purple and yellow.[1]
Her favorite superhero is Iron Man.[2]
Her favorite sport is volleyball.[3]
She loves Modern Family and Friends.
External links