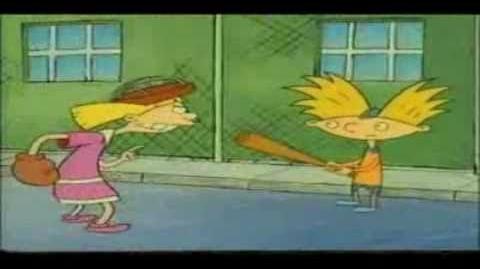 Football Head is Helga Pataki's favorite teasing nickname for Arnold given for the characteristic shape of his head. Wolfgang has a similar nickname for Arnold: "Football Face".
Craig Bartlett uses this term to describe Arnold (from his interview):
| | | |
| --- | --- | --- |
| " | I created Arnold when I first moved to LA, ten years ago [in 1988]. I was still doing clay animation on glass (the Penny cartoons from PeeWee's Playhouse) so I designed him out of clay. I cut out the football shape from a big sheet of clay, set the eyes wide apart, gave him the huge hair and tiny hat, and that was that. | " |

The oblong shape of the head is shared by some of Arnold's relatives; his mother Stella and cousin Arnie (which may suggest that Arnie is Arnold's maternal cousin). His late maternal grandfather Arnold may have been football-headed as well.
Ruth, though unrelated to Arnold, has an oblong-shaped head as well.
Craig Bartlett also mentioned that "Football Head" is a popular motif in the architecture of the Green-Eyed people.
Helga even used an actual football to construct a secret shrine to Arnold.
"Football Head" in various translations
Afrikaans: Voetbal Kop
Chinese: 足球头 (Zúqiútóu)
Czech: Šišatá hlava ("Pine Cone Head")
Dutch: Meloenenkop ("Melon Head")
French: crâne d'oeuf ("Egg Head")
German: Footballschädel ("Football Skull")
Hungarian: Futballfejű (Football-headed)
Japanese: フットボール頭 (Futtobōru Atama)
Malay; Kepala sepak ("football Head") or kepala bola ragbi ("rugby ball head")
Polish: Futbolowa głowa
Portuguese (Brazil): Cabeça-de-bigorna ("Anvil Head")
Portuguese (Portugal): Cabeça-de-melão ("Melon Head")
Russian: Репоголовый (Repogolovyj, "Turnip Head")
Spanish: Cabeza de balón ("Ball Head")
Swedish: Fotbollshuvud ("Football Head")
Turkish: Futbol topu kafanı
Ukrainian: М'ячеголовий (Mjačeholovyj, "Ball Head")
Greek: πεπονοκέφαλος (melon head)
Community content is available under
CC-BY-SA
unless otherwise noted.