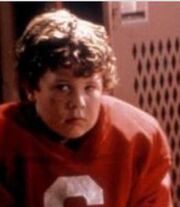 Christopher P. Walberg (born April 2nd, 1986) is a former child actor and musician was known for his voice as Stinky Peterson for almost every episode (except for Downtown as Fruits). He was around 9 years old at the start of the series.
He played the role of "Timmy Moore" in "Little Giants" (1994) and appeared in an episode of "Frasier" (1993), credited as "Boy". [1]
Current Life
Here's a post made by user "Josh Croft" on the IMDb board that gives an updated status on Walberg's life:

I am friends with Christopher "Topher" Walberg here in Nashville, TN. He is the bassist and vocalist in an incredible rock band called "H-Beam". They are quickly becoming one of the most entertaining local rock bands here in Nashville. Little do people know that Nashville has a spectacular underground rock scene. Bands like "The Loft", "Folk Medicine", "Mile 8", and "Old Union" join "H-Beam" in this soon to be very recognizable area for great ecclectic rock bands."

Topher's sly skillz on the bass makes H-Beam's smooth grooves and rockin beats very jammable. Joining Topher in "H-Beam" is his older brother Matt "Hollywood" Walberg who plays guitar and vocals, and Aaron Faust on drums and vocals. Visit www.h-beamlive.com to check out their website."

Topher is a cool cat and a good friend. He's come a long way from "The Little Giants" and will go much further and faster by the path he is taking now. It's awesome to see someone I know very well listed here and to know that he is really a cool down-to-earth dude that loves to rock."

JCRO (President and CEO)
JCRODUCTIONS ENTERTAINMENT
Murfreesboro, TN [2]
External Links