Best Friends is an episode of Hey Arnold!.
Synopsis
Arnold, Rhonda, and Nadine are grouped up for a project, but Rhonda and Nadine get into a fight whether they should do a project on fashion or an insect, and Arnold gets stuck in between their fight.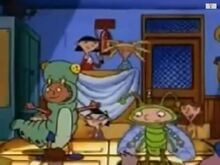 Plot
This article needs expansion. But, with a little cultivation, it could become a virtual paradise. Won't you please help out an article in need? This template will categorize articles that include it into the Article stubs task category.