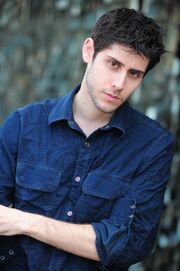 Benjamin Isaac "Ben" Diskin (born August 25, 1982) is an American actor, voice artist, and comedian, best known for voicing Numbuh 1 and Numbuh 2 in Codename: Kids Next Door, Sai in Naruto Shippuden, Joseph Joestar in Jojo's Bizarre Adventure: Battle Tendency, Eddie Brock/Venom in The Spectacular Spider-Man, as the current voice of Humphrey in the Alpha and Omega franchise, Boris Badenov from 2018 DreamWorks animated reboot series "The Adventures of Rocky & Bullwinkle" Shoutmon and Cutemon in Digimon Fusion.
Diskin voiced Eugene Horowitz for the majority of the series; from Season 2 until the beginning of Season 5, when he was later replaced by Blake McIver Ewing.
Voice Credits
Other Credits
Trivia
Diskin likely got a Special Thanks dedicated to him in "Fishing Trip" because that episode was the last episode he recorded.
In the episodes marked with (*), his name is misspelled as "Ben Disken" in the credits.